Calling All Agents
International Necronautical Society (INS) Broadcasting Unit
Institute of Contemporary Arts London
87.7 FM in London and www.necronauts.org worldwide, 24 hrs daily
8-13 April 2004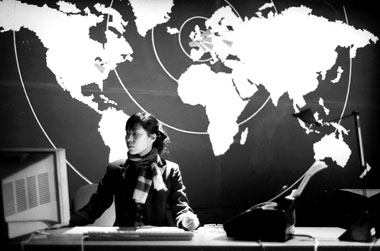 more images
scripts/transcripts
press service/images
Coinciding with the granting of a temporary licence to broadcast on FM in the London area, the INS Communications and Encodings Subcommittee opened the doors of the INS Transmission Room to the public at the ICA and established its first internet broadcast at www.necronauts.org.
The configuration of INS broadcasting protocols was developed following the INS Second First Committee Hearings: Transmission, Death, Technology (Cubitt Gallery, London, 2002) and this installation was designed in accordance with INS General Secretary's Report: Calling All Agents (ICA, London, 2003).
The Transmission Room is both a fully functioning radio station and an embodiment of the psychoanalytical writers Nicholas Abraham and Maria Torok's notion of the 'crypt': an enclave which Derrida has described as 'a pocket of resistance to reality'. The key elements of INS broadcasting are reception, transcription, transformation and transmission: hearing and calling. Accordingly, the Transmission Room is equipped to receive the widest possible spectrum of data, voice and text streams.
Visitors to the Transmission Room were be able to observe INS Transmission Agents (Dactylographic Assistants) preparing a series of radio broadcasts, transcribing incoming signals, monitoring patterns and devices. The dissection of what INS General Secretary Tom McCarthy calls the 'mediasphere' follows the fault-lines in culture: between literature and philosophy, art and propaganda, fiction and phantasmagoria, territory and map. Incoming content was transposed, permutated, looped, echoed and inverted. Material was subjected to metrical and technical procedures devised by the INS Communications and Encodings Subcommittee, resulting in scripts for broadcast.
INS signals were heard on FM radio in the London area, via internet radio and rebroadcast by collaborating stations in Europe and America.
L'oiseau chante avec les doigts. Deux fois. Je repète. L'oiseau chante avec les doigts. Deux fois. Je repète. L'oiseau ... (Radio transmission by the dead poet Cégeste heard by the title character in Jean Cocteau's film Orphée, 1950)
INS Communications and Encodings Subcommittee
Tom McCarthy, INS General Secretary
Anthony Auerbach, INS Chief of Propaganda (Archiving and Epistemological Critique)
Melissa McCarthy, Chief of Staff
Laura Hopkins, Environmental Engineer
Technical Collaboration
Steve Perry, Broadcast Engineer
Official INS propaganda may be freely distributed, distorted, appropriated or adapted as the reader sees fit.
[Original announcement] issued by Anthony Auerbach, INS Chief of Propaganda (Archiving and Epistemological Critique) 060304
Calling All Agents: INS Broadcasting Unit at the ICA was supported by Arts Council England and the ICA